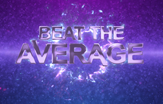 Beat the Average
You don't need to be the best….you just need to Beat the Average! In each episode, a team of three contestants – friends, family, co-workers – compete together in the studio in unique challenges across a wide variety of categories. In 3 stages that get harder and harder, they'll be competing against the people – a group of 100 individuals who do the same task to get an average score. Will they beat the average distance for holding their breath under water? How about stomping grapes? If they can beat the average, they'll win cash. As the tasks get harder, pros will enter the group of 100 to boost the average score. If the team wins, one final task awaits giving them a chance to win big money!

Genre: Prime Time Studio Entertainment
Timeslot: 60-90 mins
Production: Armoza Formats
Everything you can do..can they do better?