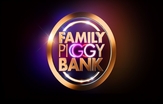 Family Piggy Bank
Family Piggy Bank brings the unique dynamics of a family dinner to the studio. This fun-filled game show puts one family's knowledge and trust in each other to the test as they work together to try to fill their family piggy bank. One main contestant with the help of four family members will go through three rounds of trivia. In round one, contestant will earn money. In round two, they will try to multiply and in the final round, the family will try to cash out their piggy banks. Can the family win the glory and fame or will they shame the family name?
Using innovative CGI-technology, the format comes with a technological hub that creates a prime time, shiny floor studio, virtual game play movements and even a virtual audience.
Genre:Family Game Show
Episodes: 60 mins
Broadcaster: RTP1
Country of Broadcast: Portugal
Production: Armoza Formats and Gamechanger
Family game night just got a whole lot bigger!