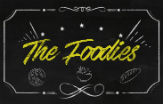 The Foodies
Today, more than ever, food is a global obsession - we crave it, we photograph it, we share it on social media and we talk about it constantly! 'The Foodies' is the new docu-reality that takes this obsession to the next level. In every episode, we will join our groups of foodies - whether family, friends or couples - as they visit a new restaurant.
Each group is unique, but they all have one thing in common – their passion for food. And now, you no longer need to listen in on other tables, because you're invited to take a seat with 'The Foodies'! During the episode, they will share their unfiltered opinions and ratings of the food, service and ambience. We'll get to know each foodie as they eat, laugh and reveal their life stories. You'll love them or hate them, but you won't be able to ignore them!

Genre: Factual Entertainment
Episodes: 60 mins
Production: Armoza Formats
You're invited to take a seat at their table!