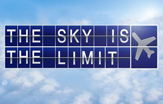 The Sky Is The Limit
'The Sky is the Limit' takes off into uncharted territory! Participants are taken to an exotic new country, where the winners of the quiz show – hosted on the plane itself! – will win a fabulous, all-expense-paid vacation in the final destination. The show's losers must remain on board the plane to fly straight back to their origin!
The format incorporates the most exciting aspects of international travel into a successful prime-time game show. The format makes use of everything travelers love about flying, including individual touch-screen consoles to answer trivia questions and on-board neighbors for Lifelines! Additional unique features of the format include special themed episodes, celebrity hosts, and broadcast partnerships with leading airlines. From the comfort of your own couch, experience the thrill of a journey where The Sky is the Limit!

Episodes: 60 mins
Please fasten your seatbelts and return to your seats because the in-flight entertainment is about to begin!